Hello--my name is Pat Finnegan. (And yes--I AM A WOMAN.) And this is me, at one of my favorite places anywhere: the 20th Maine monument at Little Round Top, Gettysburg, PA.

Welcome to my Web site, which is dedicated to my favorite Civil War figure--and a very great man: General Joshua Lawrence Chamberlain.

One could say I came into a belated interest in the Civil War in general, and Chamberlain in particular. I'd never heard his name mentioned in any Civil War study I did in elementary or high school. But when I saw Ken Burns' landmark PBS series "The Civil War" in 1990, I heard Chamberlain's name mentioned for the first time. For some reason, the General's name stuck to me. And after hearing about his Civil War exploits, I thought, "What a remarkable man he was!" I read later that Mr. Burns is a huge admirer of Chamberlain himself--and he confirmed it, when I met him at Syracuse University, in the fall of 1995.

A few years passed, and Chamberlain's name almost faded from my memory. That is, until I met up again with an old friend in the spring of 1994, after some years apart. She was a true Civil War enthusiast--and a great fan of Joshua Lawrence Chamberlain. So much so, she couldn't stop talking about the man! She invited me on a weekend trip to Gettysburg, in May 1994--and the rest, as they say, is history. I visited the 20th Maine's position at Little Round Top, and was completely captivated by their story--and especially by their dashing commander. So much so that, I started to read everything I could find about Joshua Chamberlain. And the more I read, the more I was attracted to him. And not simply because he's a very good-looking man!

Since then, I've made several more trips to Gettysburg, and to Chamberlain's beloved home state of Maine, to learn more about the soldier and the man, and what made him tick. At first, I thought he was too good to be true. But the more I read about him, the more fascinated by him I became: by his strong character, his courage and coolness under fire, and his willingness to stand up for what was right--even if it wasn't popular. Qualities that I feel, sad to say, are lacking in the world today.

When I 'found' the Internet in 1998, I discovered several Web sites about Chamberlain, created by different admirers--some of which can be seen on the Favorites page. The following year, during a long period of unemployment, I toyed with the idea of creating my own Joshua Chamberlain Web site. And with the encouragement of my sister and brother-in-law, along with several new friends who were also Chamberlain admirers, this site was born. Through it, I've 'met' so many wonderful people who share my admiration for Chamberlain, and who have also contributed in many ways, to some of the pages below.

Turns out that many of my visitors are women--who, like me, have become members of Chamberlain's 'Devoted Band of Female Admirers'!

It's my hope and prayer, that all my visitors learn a bit more about Joshua Lawrence Chamberlain, each time they visit.

The site is broken down as follows:

GENERAL BIOGRAPHY OF JOSHUA LAWRENCE CHAMBERLAIN:

WHAT'S NEW:

I've added an interesting anecdote about Chamberlain's 1900 visit to Egypt, that was told by his niece, Alice Farrington, on the "Last Years" page.
There is also an interesting photo of Tom Chamberlain on the Family Life page.
There is a new 'anecdote' about Chamberlain at Appomattox, on both the Appomattox and "Civil War Part Two" pages--courtesy of my good friend Patrick Schroeder, Park Historian at Appomattox Court House National Historical Park.

SOON TO COME

Future pages will be about Chamberlain's faithful war horse "Charlemagne", and an examination of the effects of the terrible wound Chamberlain suffered during the attack on Rives' Sailient, at Petersburg, VA, in June 1864.
There will also be more post-war family information (including pictures) that will be scattered about the site.
PLEASE NOTE: Any information that is listed on all these pages is as accurate as possible; any errors are mine, and mine alone.
Thanks for visiting the site!

A VERY SPECIAL NOTE OF THANKS: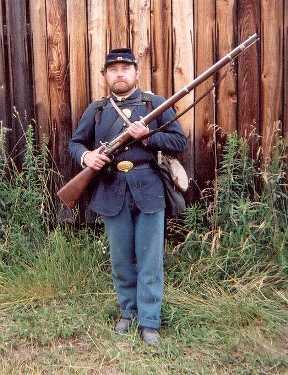 Here is my dear friend Tom Fleming, in his reenactor's persona, as a private in the 155th New York Volunteer Infantry (Corcoran's Irish Legion).
While adding these new pages and photos to my site, I noticed that many of the photos contained therein were quite large -- which made for long uploading and downloading times. Thankfully, help was close at hand...in the form of a very dear and special friend named Thomas Fleming. He offered to help shrink these oversized photos, and then resend them to me, so I could re-upload them onto the site. And, over the course of several weeks, that's exactly what he did! And they all look marvelous!
I cannot thank Tom enough, for being the generous and most loving friend that he is, as well as for assisting me with this work. In a way, Tom's become almost a 'co-author' of this site. And I am forever grateful for all his help.
BLESS YOU, DEAREST FRIEND!!
On a more serious note:
It has also come to my attention that some of my site's text was plagiarized and posted on a 'research' site.
While I am happy to assist visitors with any research requests they may have, visiting this site does NOT give anyone the right to copy the text and pass it off as their own work, or to post it on their own Web site without my permission.
THIS I WILL NOT TOLERATE!
PLEASE SEE THE COPYRIGHT NOTICE AT THE BOTTOM OF THIS PAGE.
I would also like to see more written and photographic contributions from site visitors--in the form of book reviews, photos, or descriptions of their own visits to Chamberlain-related sites in Maine, Gettysburg or Virginia.
This is why the site is here: for fellow admirers to share their experiences and knowledge about Chamberlain's life. Please email them to me, and I will post them.
THIS WEB SITE IS DEDICATED TO GENERAL JOSHUA LAWRENCE CHAMBERLAIN,
AND TO THE MEMORY OF: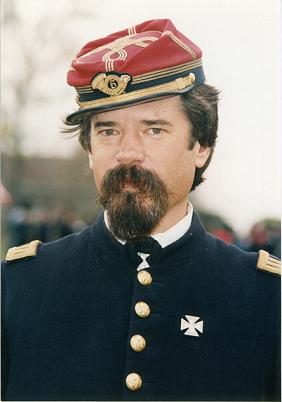 BRIAN C. POHANKA
Civil War Historian, Author, Reenactor -- and Great Champion for Joshua Lawrence Chamberlain
March 20, 1955 - June 15, 2005
Photo taken at Gettysburg in 1995, by Jeffrey Rodriguez -- and used with his most kind permission.
Do not use without Mr. Rodriguez's express written permission.
Special thanks to my dear friend Thomas Fleming, for reducing the image's size for me!
YOU ARE STILL VERY MUCH MISSED, BRIAN--
GONE, BUT NEVER FORGOTTEN!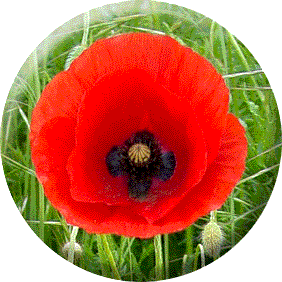 IN REMEMBRANCE

The poppy has been a sign of military remembrance since the Napoleonic Wars--and most especially since the First World War. So I think this is an appropriate way to commemorate Brian's life.